Our goal is total customer satisfaction, which is why we have always rigorously applied a meticulous and constant process to improve our products and processes, moving around from the performance aspect through a careful research and development phase supported by advanced testing and verification tools, to finally reach a scrupulous control of the entire corporate process certified according to ISO 9001.
The numerous certifications, including the one concerning the fulfillment of the most stringent health and hygiene requirements that comply with the criteria of DIN1946-4, testify to the primary attention and constant commitment put by Mekar on issues that have always been dear to the company, such as innovation, quality, efficiency and total reliability of the solutions and product ranges offered to the market.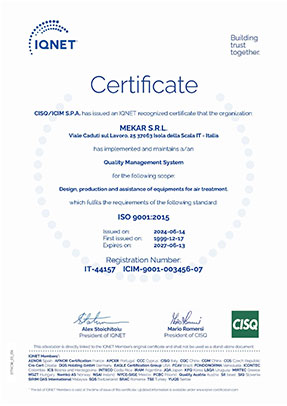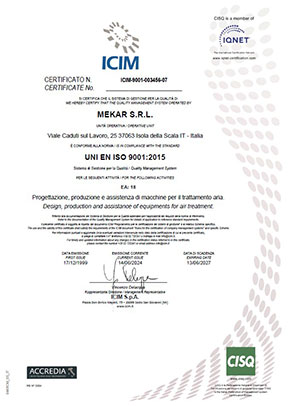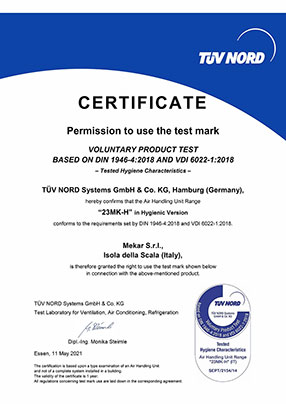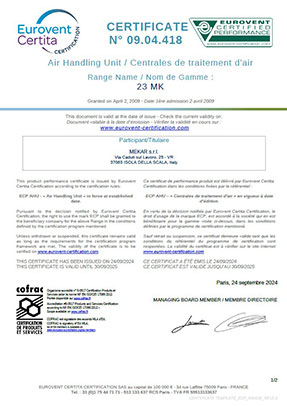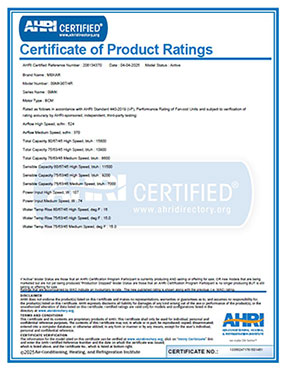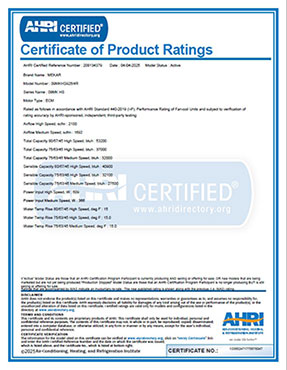 Your ideal comfort, in total safety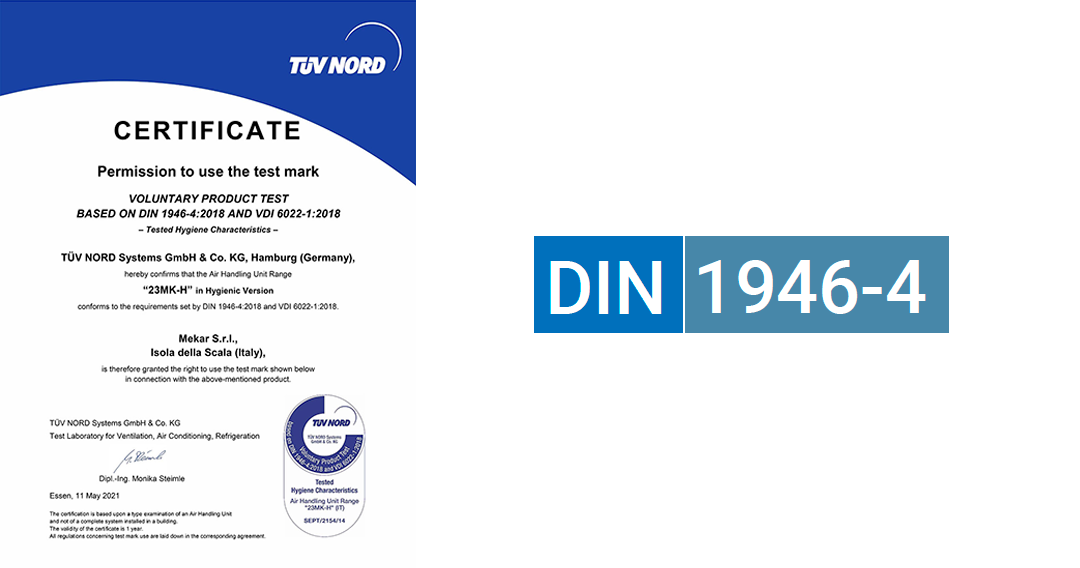 Today it is vital for companies to guarantee an ideal healthy climate within various environments, ensuring both comfort and safety, favoring the psychophysical wellbeing of individuals, while improving their health, performance and concentration. Appropriate air management, not only in terms of the temperature but also the purity of the air, in the environments where we live, represents a vital aspect for the well-being of the occupants as it superbly maintains their health conditions.
Mekar set out to give a concrete answer to the primary aspect of user protection by designing, developing and certifying a dedicated range of units (DIN 1946-4 certified by TUV-NORD) that guarantee a high standard of hygiene, with a broad range of fields of application. These applications include the most common areas such as offices, schools, gyms, spas and shared spaces in general where a healthier and safer environment is created. Then we provide even more sensitive applications for places such as hospitals, clinics, the food and pharmaceutical industries in which absolute levels of hygiene must be guaranteed.
The introduction of innovative technical construction solutions, the use of stainless materials and cutting-edge polymers tested according to DIN EN ISO 846 and capable of inhibiting bacterial proliferation, have led to the creation of two series of products conforming to the parameters imposed by the VDI 6022 guidelines. These are ever more widely recognized at the European level as a reference for the state-of-the-art design of public spaces where excellent hygiene and comfort can be ensured to the total benefit of the public well-being.
Certified solutions, full operation even in case of earthquake
Ensuring the full operation of the systems that guarantee air treatment even in the case of adverse events, such as seismics, is a priority issue for any public building that must guarantee total safety for users and full functionality.
For this reason, as early as 2016, specific seismic tests were performed at the ENEA Research Center in Rome, where the suitability of the UTA Mekar 23MK series was certified for resisting without damage in the case of seismic events, in compliance with UBC97 (Universal Building Code 97).